Welcome
EGMA is a consulting company focused on helping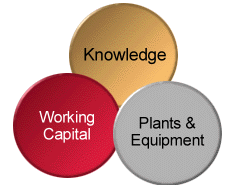 clients achieve full asset agility. Winning in today's global, tumultuous markets against fierce competition requires asset agility. Asset agility --- efficient operation AND rapid adaptation of assets to meet customer needs --- is essential in the three asset arenas of knowledge, working capital, and equipment. We specialize in combining sound science with organizational rigor for quick and lasting bottom line improvement.
We are a preferred best practice vendor for several Fortune 500 manufacturing sector companies. We provide state of the art processes and supporting software systems for
process control optimization
asset productivity
high performing work systems.
EGMA was founded in 1986 and is headquartered in Wilmington, DE, USA. Our sixty senior professionals with decades of hands-on operating experience provide both content and business process know-how.